- Modesty with Cultural Artistry
Manipuri is one of the most beautiful classical dance styles of India originated from the North Eastern state of Manipur and derives its name from its native state. The history of Manipuri can be traced back to 2nd century AD, when King Khuyoi Tompok, a great patron of the arts developed this dance form. However, this early form of Manipuri had not much in common with contemporary forms. From the 17th century, the Manipuri began to take a familiar form with the introduction of Vaishnavism, the devotional cult of Hinduism. In the 18th century this dance form was given a scientific base by King Bhagyachandra. The Vaishnavite music and texts combined with the local flavour to evolve a subtle and stylised dance form that is uniquely Manipuri in nature.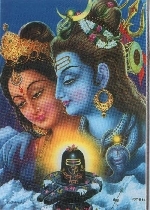 Literally, the word 'Manipur' means a jewel of a land, and the state is set like a gem in the wavy mountains. According to legend, Lord Shiva and his wife Parvati danced in the valleys of Manipur accompanied with the Ghandharvas to the celestial light of Mani (jewel) from the head of the Atishesha, a serpant and that is how it has come to be called Manipuri. This dance is an inherent part of the rituals of daily life and it is performed on religious occasions and in temples throughout the region.
Bhakti (devotion) is the guiding force of Manipuri dance and this is the only dance that is still performed in the temple. It has retained the ancient ritual based dances and folk dances along with the later developed classical Manipuri dance style. Manipuri dance creates a hypnotic impact with gorgeous, colourful costumes and gentle, swaying petal-soft movements. This style is multifaceted, ranging from Lasya (softest feminine) to the Tandava (vigorous masculine). The songs used in Manipuri are usually from the great poets of old such as Jaydev, Vidyapati, Chandidas, Govindadas and Gyandas and a number of languages may be used such as Sanskrit, Maithili, Brijbhasha or others. The original Gurus of Manipuri are Guru Amudon Sharma, Guru Amubi Singh and Guru Atomba Singh.
Manipuri dance is a generic name that covers all the dance forms of this region. These are the Lai Haraoba, Sankirtan, Rasleela, Pung Cholom, Nupa Pala, Thoibi, Maibi and Thang-ta.
Lai Haraoba – It is a ritualistic dance depicting the creation of the Universe. It is considered as the precursor of modern classical manipuri dance. In this dance form, both men and women perform various steps and weave patterns, involving various choreographic compositions.
Sankirtan - This is a classical form started by Maharaja Bhagyachandra who propounded Vaishnavism in Manipur. It is performed on every social and religious occasion and is considered an auspicious ritual in which a group of men play cymbals and dance in a circle or in two rows singing praises of God.
Rasleela - A highly evolved dance drama, choreographed on 'Vaishnavite Padavalis' which is based on the cosmic love of Lord Krishna and Radha. The themes are romantic as the Bhakti school of Hinduism considers physical love as a metaphor for spiritual longing. There are five Rasleelas - Vasanta Ras (performed during Holi in March), Maharas (performed on Kartik Purnima in October), Nitya Ras (performed daily), Kunja Ras and Diva Ras (performed during the day). Other Ras deals with various aspects of Krishna's life such as Karnabheda (ear piercing), marriage, etc.
Pung Cholom – It is a very characteristic dance of Manipur in which the dancers play upon pung, the Manipuri mridang, and dance with the intricate time cycles, executing somersaults and breathtaking acrobatic feats. This dance may be performed by men or women and is usually a prelude to the Rasleela.
Nupa Pala – It is a variation of the Pung Cholom which is also known as the Kartal Cholom and is the cymbal dance.
Thoibi - This portrays the love affair between a prince and princes of two warring clans.
Maibi - This dance deals with the cosmogony of the Meitei people of Manipur.
Thang-ta - The martial arts of Manipur performed with swords and spears are some of the most stylised found in the world. Vigorous movements combined with tremendous control make a long lasting impact on spectators.