- Blending of Dance with Drama
Kuchipudi is the classical dance-drama form from the South-East Indian state of Andhra Pradesh. The origin of this dance form, which gets its name from the village of Kuchelapuram, a hamlet in Krishna district, dates as far back as the 2nd century B.C. In the 17th century this village was presented by a local ruler Tana Shah to the Brahmins who performed the dance.
According to tradition, kuchipudi dance was performed only by men and they all belonged to the Brahmin community. These Brahmin families were known popularly as Bhagavathalu of Kuchipudi. For a long time, the art was presented only at temples and the dramas were devotional enactments of the life of Krishna.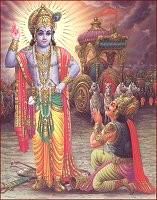 Kuchipudi dance was nurtured by great scholars and artists who refined the dance technique and gave it the present form in the 20th century. Some notable names are Guru Lakshminarayan Shastry, Vempati Chinna Satyam, C.R. Acharyalu, and Dr. Nataraja Ramakrishna. The dance has undergone a revival as both a solo and dance drama tradition and is now performed on the modern stage around the world by both men and women.
Kuchipudi dance is a perfect balance between nritta (pure dance), nritya (dance with a theme full of emotions) and natya (drama). It uses fast rhythmic footwork and graceful body movements along with hand gestures and subtle facial expression, which truly portrays the characters of the story. The themes are mostly derived form the scriptures and mythology. One example is Satyabhama, the proud and self-assured queen of Lord Krishna, from the dance-drama Bhama Kalapam. The other famous dance dramas are Gollakalapam by Bhagavatha Ramayya, Prahlada Charitam by Tirumala Narayanacharyalu, Sashirekha Parinaya etc.
One of the unique features of kuchipudi is the tarangam, in which the performer balances herself on the rim of a brass plate and executes complicated rhythmic steps to the beat of a drum, also sometimes balancing a pot of water on the head. Besides the traditional items like sabdams and tarangams, there are few more compositions like Purandardasa kirtanas, Hindi bhajans, and tillanas are added presently. The music in kuchipudi is classical karnatic accompanied by mridangam, flute and violin. The make up and costumes are not so elaborate like kuchipudi. The important characters have different make up and the female characters wear ornaments and jewellery such as Rakudi (on head), Chandra Vanki (on arm), Adda Bhasa and Kasina Sara (in neck).
Typical kuchipudi plays begin with some stage rites. It is followed by a Soothradhara (conductor) and the supporting musicians playing a rhythm on the drums and cymbals. Then each principal character introduces himself or herself on the stage with a small composition of dance and song specially designed for each character, known as dharu. There are nearly 80 dharus or dance sequences in the dance drama. After that the drama begins and each performer enacts his or her part on the stage.